Robotic toys created and developed for Zap Toys
Smart tank-like robots with integrated obstacle avoidance algorithm and Artificial Intelligence.


These remote controlled robots bring video games to real life thanks to an electronic design by Wany Robotics. They can work in three different battle modes: Human player VS AI, Human player VS Human player and AI VS AI. The Artificial Intelligence Algorithm created by Wany Robotics integrates an attack, avoid and detect system allowing robots to have many different and smart behaviour. They are even able to hide behind obstacles and shoot under cover. TankBots provide an entertaining way for kids to strengthen their strategic thinking skills and co-ordination.



Contact us
to estimate the feasibility and cost of goods on your robotic toy project.
+33 4 67 99 58 08 (France)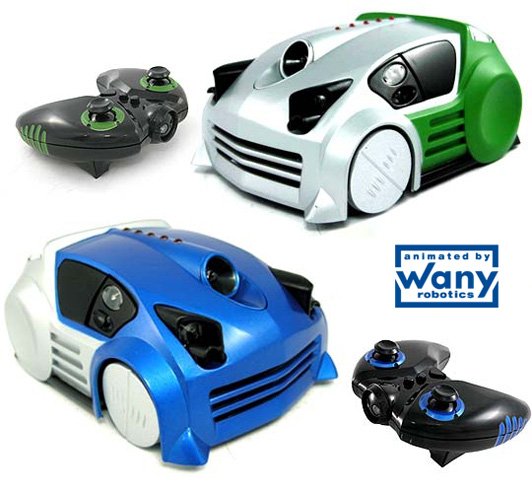 A new gaming experience with Artificial Intelligence advanced capabilities.
The set includes two TankBots and two infrared remote controls.
First tanks game on the market to feature a single player gameplay in addition to two player and AI vs AI modes.
TankBots know when to run, when to hide and when to seek and to attack its opponents. They have offensive and defensive behaviours.
TankBots are fun, but also stimulate the mind by proposing progressive challenging tasks to complete.
TankBots feature a "Laser Bazooka" with unlimited ammunitions. When firing on the remote control, the shot will generate a sound and vibration.
5 LEDS on the top of the tanks indicates the lifeline of the TankBots (10 lives) . When all LEDs are turned off, the party is over.
TankBots feature also a defense mechanism. An unlimited protective shield can be used during battle. When the protective shield is on, no attack will be allowed during 5 seconds.
TankBots are equiped with obstacle distance sensors and opponent detector on the front, the back and on both sides. These sensors can analyse environment to elaborate battle plans, but also transmit and receive information from remote controls and other TankBots
Included the TankBots package:




2 TankBots and 2 infrared remote controls

16cm x 12cm x 6.5xm for each tank
Gift box size: 51.12cm x 30.48cm x 66.68cm
Battery requirement: 12 x AA + 2 x 9v batteries
3 battle mode
Artificial Intelligence Algorithm
Obstacled detection and distance measurement sensors
Contact us
to estimate the feasibility and cost of goods on your robotic toy project.
+33 4 67 99 58 08 (France)